We Will Always Remember ZDDT and Sally Foundation – Entembeni
Written by

Mandla Tshuma, ZDDT Field Correspondent
BULAWAYO – Members of staff at Entembeni Old People's Home, which has been the venue for the five-week Zimbabwe Development Democracy Trust (ZDDT) and Sally Foundation-supported value-addition cooking training, which ended on February 7 this year, said they will forever remember the two organisations for the help they rendered to the home during the course of the programme.
The training, which aims at adding value to the trust's various community gardens in the city, saw a total of 16 Community Action Team members drawn from Bulawayo's Wards 15, 19, 21 and 27 undergo lectures and practical work to make products such as a variety of meals, tomato sauce, pickles, pickled beetroot and onion, sweet and sour cucumber pickle, fruit chutney, mixed pickles and many other related products.
Whatever was prepared by the participants, was being left at the home for use by the residents who also indirectly benefited.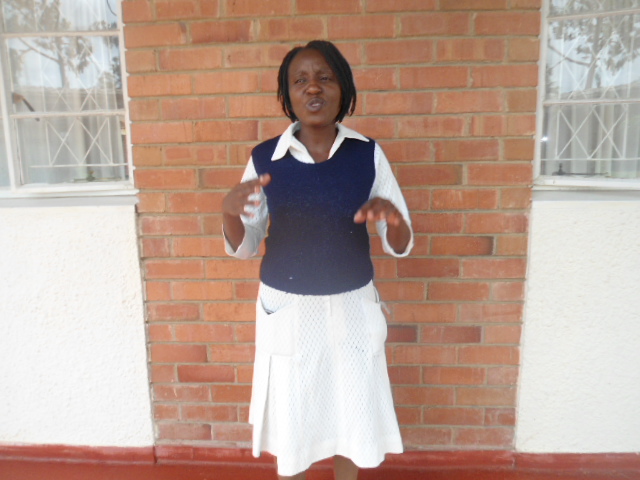 Chelesani Tshuma (above), a nurse aide at the home, who could not hide her joy, told ZDDT News they were excited about the cooking programme.
"We are so happy about this programme because it has been helping us a lot, especially on Tuesdays (When the training takes place)," she said.
"Whatever these ladies have been cooking during their lessons, they have been leaving it here for the elderly in the home."
She said the left over gas, which they have been leaving behind as well, has been helping them in their cooking.
Tshuma added:
"What we have realised is that these people are full of love. There are very few people who would want to come and do their cooking at a place where there are the oldies. There are so many places that they could have chosen but they chose Entembeni Old People's Home."
The cook for the residents at the home, Happy Ndlovu (Above), thanked ZDDT and Sally Foundation as well as the trainers, Liz and Yvonne, for bringing the participants who helped them keep their home clean in the process, relieving her of some of her duties.
"I am the one who cooks for the oldies here in the kitchen and, since these ladies started coming here to do their cooking lessons, we have benefited a lot as an institution," she said.
"They have also been assisting with the cleaning of our home, especially in the kitchen. We always get a good rest every time they come here because they do all our household chores. Now that they are going, we will always remember these people."
Meanwhile, in a letter last month, from the matron for the home, Jesca Matavire, she thanked ZDDT for the support the trust has been rendering the home.
"May I take this opportunity to thank you. May God continue to bless your organisation," said Matavire on behalf of the board and inmates at the home.