Amazing Stars Thrill Mahatshula North Residents
Written by

Mandla Tshuma, ZDDT Field Correspondent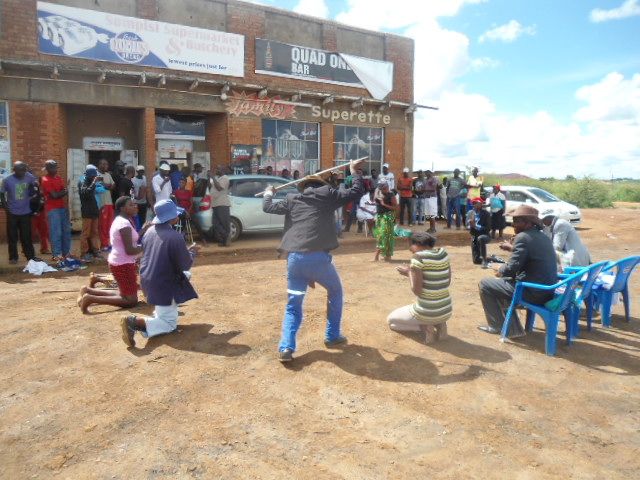 BULAWAYO - Amazing Stars Arts Academy (ASAA), a local drama group, on 8 February 2017 took their drama performance on climate change, keeping the environment clean and servant leadership to Mahatshula North suburb where they thrilled a crowd of residents who were begging for more.
The performance, which ran for an hour at Sompisi Business Centre, attracted an audience of 85 residents from the suburb which falls under Ward 3.
Of the people that witnessed the drama performance, the majority were youth with an overall gender split of 70 males and 15 females.
The message conveyed by the drama group through humour and satire, was centred on the need for community leaders to be responsible and true servants of the people.
ASAA also carried the message that residents have to adapt to climate change, keep the environment clean, and desist from dumping litter all over.
People, who were part of the crowd that watched ASAA perform, said they were not only entertained, but received moral lessons on living in clean environments, with some adding that the drama group should also sensitise the Bulawayo City Council on spraying streams in their area which are the breeding sites for mosquitoes.
"This drama, from the way I saw it, teaches us mostly on the proper disposal of used baby pumpers (Diapers)," said Kenias Muleya. "If you go around here, there are pumpers all over."
He welcomed the play, adding the group should also incorporate the message on the proper disposal of beer bottles which cannot be re-used, saying they were causing tyre punctures for many drivers.
"From what I have seen today, I must say I am really happy about the way this drama group is educating us," he added.
MaKhumalo, another resident, said the drama carried messages which were applicable to both men and women.
"With such messages, I believe our community can change for good and we will be able to live in a clean and disease-free environment," she said.
Other residents said the group should come again with more messages that can make members of the society amicably co-exist as they forge ahead with community development.
Forgiven Ndlovu, ASAA director, said they were humbled by the warm reception they received from Mahatshula North residents, adding some even implored them to take the performances to schools for the benefit of children.