Senior Citizens benefit from ZDDT's BSCS
Written by

Mandla Tshuma, ZDDT Field Correspondent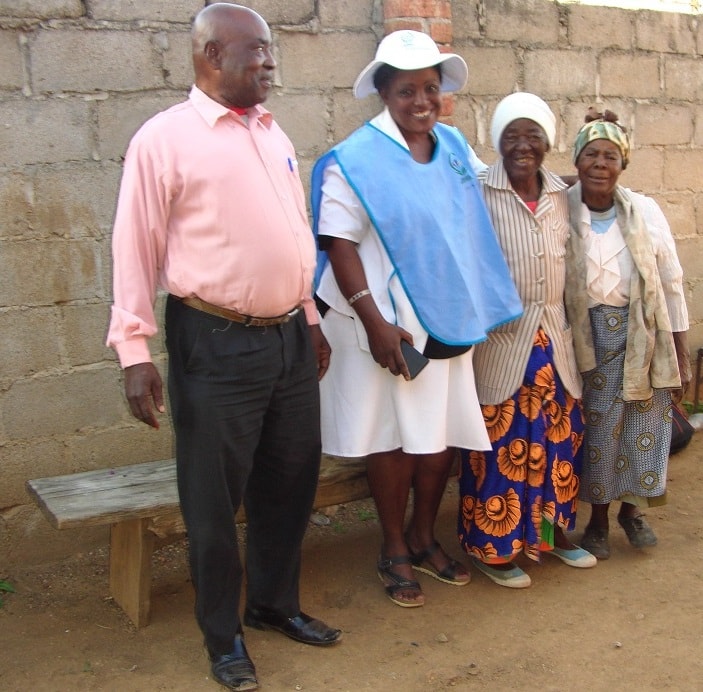 NKULUMANE – Two senior citizens from Ward 24 in Bulawayo's Nkulumane Township benefited from Zimbabwe Development Trust (ZDDT)'s Business Social Credit Scheme (BSCS) which saw them walking away with US$50 each.

Sally Foundation of Australia and Freight Consultants are contributors to the scheme which seeks to cushion needy families in the city against economic hardships.

This is an essential element of ZDDT's social responsibility programme as it brings the business fraternity closer to the community from which it owes existence.

The two latest beneficiaries, Daisy Ndlovu, 80, and Zondiwe Nyoni, 72, who were identified by their councillor, Cllr Gideon Mangena, could not contain their joy after being handed over their cash.

"Thank you so much my children. This is an amazing gift to me," said Ndlovu.

"I had 11 children and nine have died and I am now left with only two who also left for Johannesburg; they don't phone me whatsoever."
Above: Cllr Gideon Mangena, Ward 24, hands over cash to Zondiwe Nyoni while ZDDT's News Correspondent, Mandla Tshuma looks on.
She said she reports all her needs and problems to Cllr Mangena.

"Today I will sleep on a full stomach because of this money," she added.

Nyoni thanked ZDDT and Cllr Mangena for remembering her saying it was her first time to receive such a gift since independence.

"I had five children, four of whom have died and I am left with one who is in South Africa," said Nyoni.

"She no longer cares for me and I am suffering. I am going to use this money to pay my water bill. I am so excited and may God richly bless you."

Cllr Mangena also paid tribute to ZDDT for coming to the elderly women's rescue, adding the selection process was not easy since most residents are undergoing difficulties in the ward.