ZDDT Zone Meetings Enhancing Development
Written by

Mandla Tshuma, ZDDT Field Correspondent
BULAWAYO- Zimbabwe Development Democracy Trust (ZDDT)'s monthly Zone Meetings play a significant role in enhancing development in the city of Bulawayo, a Community Action Team (CAT) member has said.

Sheila Dube, from Ward 11, which covers Emakhandeni Township, was speaking to ZDDT News recently after an expanded Zone Meeting held at the Jairos Jiri Centre in the city centre.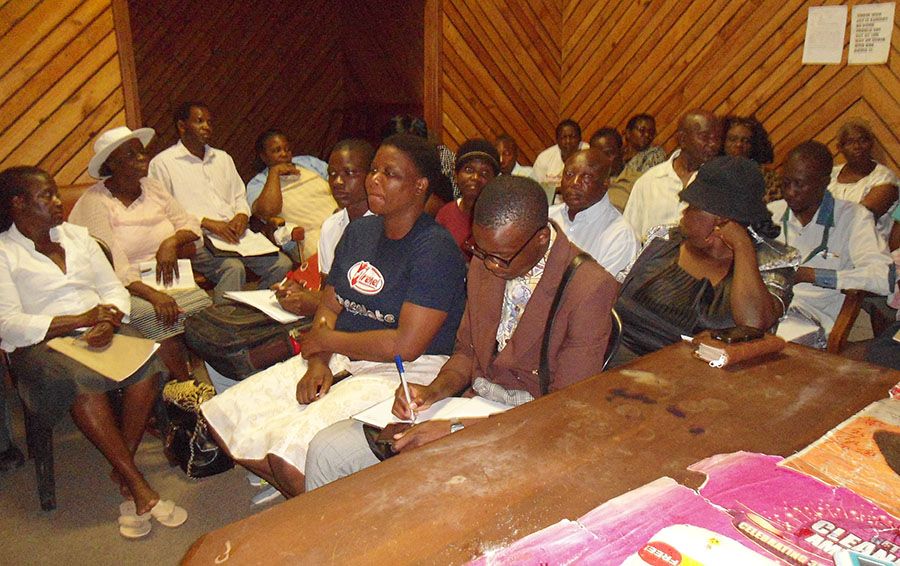 Above: CAT members follow proceedings during an Expanded Zone Meeting in the city centre recently.

The trust, with support from partners, organises two special Zone Meetings per month, which bring together community leaders and their councillors to discuss the welfare of Bulawayo.

Up to six Wards make up a Zone and this provides for cross pollination of ideas, greater leadership accountability, information dissemination and citizen mobilisation.

"These meetings are very important as they teach us and reveal some of the issues in our different wards that we sometimes take for granted," said Dube.

"It is in these meetings that we get to realise how important the roles we play as CAT members in our communities are. As we move around in our wards, we pick up issues that we bring here for discussion."

Dube said the Zone Meetings have made residents and community leaders work closely with their elected councillors in amicable co-existence.

"Even when it comes to funerals, we work so close with our councillors. We have kombis being availed to ferry mourners. Kombi owners assist us because their kombis are for the people."

She said it was her wish that ZDDT maintained Zone Meetings, adding they were learning a lot from them.

"If we are to just sit and not have somewhere where we discuss issues affecting us as Bulawayo residents, our blood pressure can go up. These ZDDT meetings help us because whatever we discuss here does not remain here but is taken up further."

ZDDT Zone meetings also provide interaction between councillors across ward boundaries and attract other stakeholders interested in the wellbeing of the city and its residents.