Early Christmas for Five Bulawayo Families
Written by

Mandla Tshuma, ZDDT Field Correspondent
BULAWAYO – Five families,drawn from three townships of Bulawayo, New Magwegwe, Magwegwe North and Cowdray Park, received a surprise early Christmas present, when the Zimbabwe Development Democracy Trust (ZDDT) recently donated US$50 to each of them, under the trust's Business Social Credit Scheme (BSCS).
Meant to cushion less-privileged members of the public from the harsh economic challenges, Sally Foundation of Australia and local business, Freight Consultants, contribute US$50 each every month.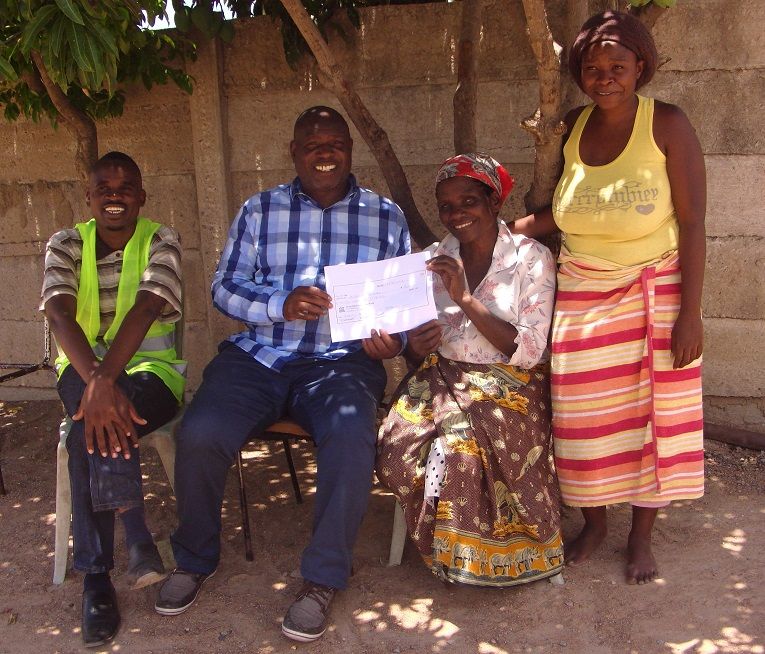 Above: Councillor Collet Ndlovu and Agnes Gumbo, flanked by Mandla Tshuma (left) and Gumbo's daughter, Blessing, show a cheque after a ZDDT donation.
The latest beneficiaries of the ZDDT initiated scheme, who were identified by councillors through a vetting process carried out in their respective areas, are Sarah Maseko and Leonard Phiri (Ward 18, New Magwegwe), Charity Sibanda and Bigboy Sibanda (Ward 29, Magwegwe North) and Agnes Gumbo (Ward 28, Cowdray Park).
Above: Councillor Concillia Mlalazi, flanked by Sarah Maseko and Leonard Phiri.
Maseko and Phiri, identified by Councillor Concillia Mlalazi, are senior citizens whose water supplies were disconnected by the Bulawayo City Council over non-payments of bills. The two Sibandas, who are however not related, and were identified by Councillor Monica Lubimbi, are living with HIV AIDS and blood cancer respectively.
Gumbo, whose plight was discovered by Councillor Collet Ndlovu, is a deaf and dumb poor widow who survives on handouts from neighbours.
Both beneficiaries, and their respective councillors, thanked ZDDT and its development partners for the timely donations, which they described as an early Christmas for them.
"I would like to thank you ZDDT for what you have done to residents in my ward," said Cllr Mlalazi.
"I have no doubt that these two will have a merry Christmas like everybody else. We urge you to continue with the good work that you are doing in the communities."
Above: From left - Councillor Monica Lubimbi, Charity Sibanda and ZDDT Field Officer, Maria Lunga, show a cheque after the ZDDT donation.
Cllr Ndlovu commended ZDDT, Sally Foundation and Freight Consultants for the work, which he said was well-done.
"As Bulawayo councillors, we have a long standing relationship with ZDDT. For me, this relationship dates back to 2008, when I became a councillor. We thank them for helping the disadvantaged members of our community," he said.
Cllr Lubimbi also paid tribute to the support rendered to residents in her ward by ZDDT and its partners.
"May God continue to bless you as you continue to help us. We really thank you so much for this help," she said.
Maseko (73) also thanked ZDDT for the kind gesture.
"Thank you so much; do not get tired even tomorrow; I urge you to continue to do well in the name of Jesus," she said with a contented smile on her face.