Bulawayo Councillors Look to Improvise on Communication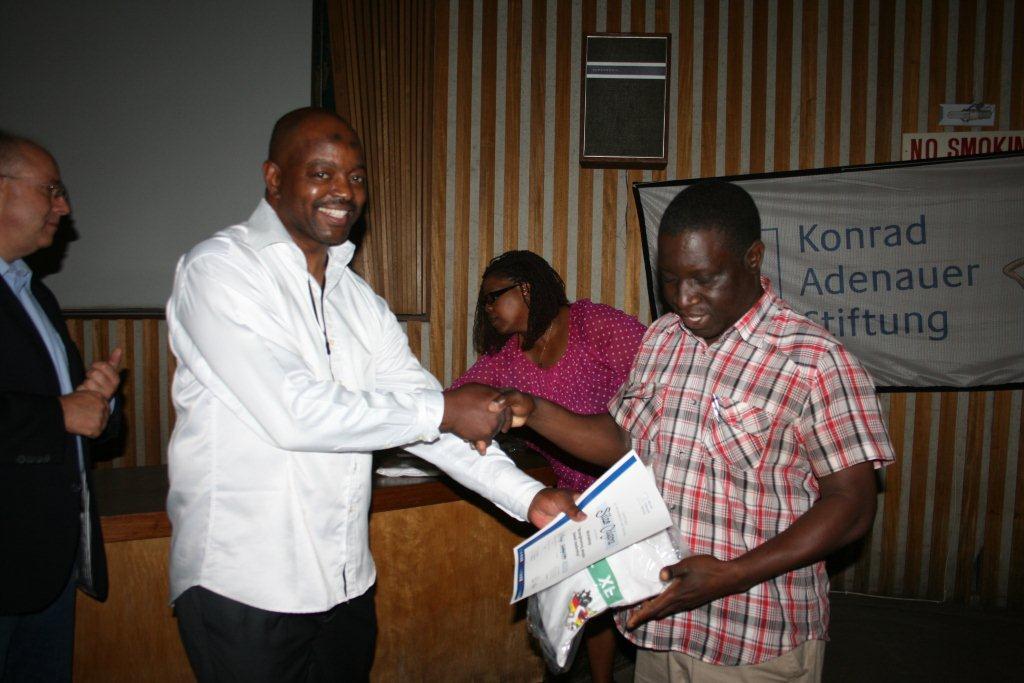 Above: Workshop facilitator Zifiso Masiye presents certificates.
Bulawayo, Zimbabwe - The recently held Sebenzela-Shandira Zimbabwe, ZDDT workshop on strengthening leadership skills, was not only an eye opener, but was life changing.
Elected community leaders from across Bulawayo, attended the forum and praised the organisation for delivering workshops which positively help shape councillors.
"We have been stimulated from a deep slumber of spoon feeding and also of being cry babies. We have been denied establishment of community radios here in Bulawayo, which has been a stumbling block to a number of our activities as nothing can be done without communication. But we have learnt of other avenues," said Councillor Ncube of Ward 17.
South African former Executive Mayor of Cape Town, Herman Bailey, encouraged Bulawayo's councillors to improvise with finding alternative means of disseminating information within their wards, rather than cry about the absence of community radio stations which could be seen as a scapegoat for poor performance.
The former executive motivated Councillors with his lively, inspirational and informative presentation, amid applause of acceptance from the attendees.
Councillor Zana, of Ward 19, was quick to praise ZDDT's information section for assisting them with the establishment of a face-book page featuring their nutritional garden.
He also thanked the Trust for training their citizen journalists who are hosting this most important communication medium that is now helping them to communicate with the world, beyond their local community.
"We are already forward, courtesy of ZDDT's Information Division. We are now international with our elderly community viewing our face-book page daily, since we have voluntary staff writing updates," concluded Cllr Zana.
Also concurring with these sentiments was Ward 27 Councillor Khumalo, who recently brought his two budding citizen journalists to ZDDT in an effort to establish a website and a face-book page to improve their communication and profile their community.
Most Councillors that expressed satisfaction in the workshop, now vow to improve their communication networks and have since cast their nets wider in in order to expand their reach within their wards.
Bulawayo's Mayor, Councillor Martin Moyo, also praised ZDDT for extending their helping hand in training citizen journalists in the community, as it has improved the working environment of those tasked to represent their people at local level.