Working with ZDDT Has Transformed Us - Amazing Stars Arts Academy
Written by

Mandla Tshuma, ZDDT Field Correspondent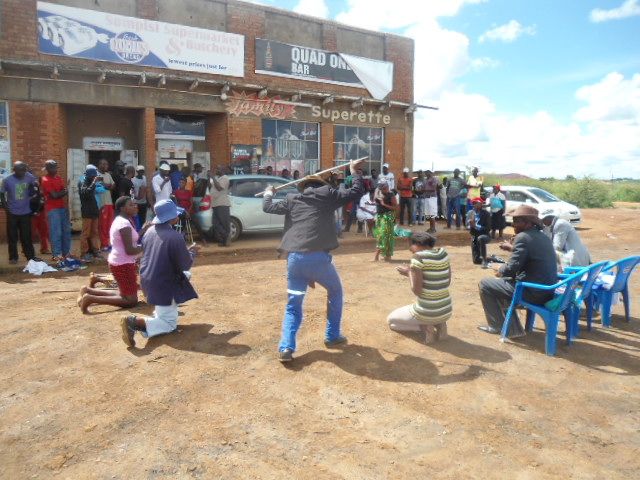 BULAWAYO – Director for the Amazing Stars Arts Academy (ASAA), Forgiven Ndlovu, has said they have benefitted a lot from the more than three years they have been working with the Zimbabwe Development Democracy Trust (ZDDT), taking to the community different messages aimed at empowering residents to make informed decisions as they forge ahead with development in their areas.
ASAA is a local drama group working in partnership with ZDDT, Sally Foundation and other development partners in staging performances on climate change, keeping the environment clean, citizens' mobilisation in community development as well as servant leadership.
"We started working with ZDDT in 2013 in this drama, where we were dealing with the subject of leadership," Ndlovu told ZDDT News.
"We were looking at what kind of leaders do the communities want. We then donated that play to 29 wards. From there, Simon Spooner (ZDDT National Development Officer) realised that our drama had an impact on the community and then encouraged us to incorporate environment, climate change and urban greening."
He said in 2014 ASAA had a programme with communities and educating people in all the 29 wards of Bulawayo with every councillor providing groups which were trained.
From there in 2015, Ndlovu said, they then moved to orphanages.
"We trained orphans in leadership and self-esteem so they could also feel as human beings," he said.
"We have adopted one child, who is an orphan, doing Form Three. As I speak we are paying school fees for her as an organisation from what we are getting from ZDDT and other organisations as we perform."
Ndlovu, who said they are now working on rebranding ASAA, revealed that working with ZDDT they managed to buy their group uniforms and pay rentals for two years at Pelandaba Hall where they practice.
"We are trying to make sure that the name of Amazing Stars doesn't die. Our new DVD is also written Amazing Stars. We are trying by all the means for the Amazing Stars to be visible to everyone," said Ndlovu.
He said while ASAA was established in 1989, it had not been regularised until it partnered ZDDT.
He further explained: "We have achieved a lot through working with ZDDT. We managed to regularise our operations. Since 1989 we were not formal; we were not registered; we were not paying taxes and we were not even known in council although we were doing our shows all over. But now we are formalised, we know there are invoices, receipt books and so forth."
He said the money that they used to record their album, they got it from ZDDT.
"The exposure that we now have internationally was also through ZDDT," he explained.
"Our play is based on environment, climate change, leadership and community participation. Basically we want people to understand what causes climate change and how best can we control it because we cannot deny the existence of climate change. What we are doing as Amazing Stars is 'edutainment'."
He said their wish is to take the drama performances to schools for the benefit of children who are the future of the nation.