Residents Flock to Attend Councillor's Feed-back Meeting
Written by

Mandla Tshuma, ZDDT Field Correspondent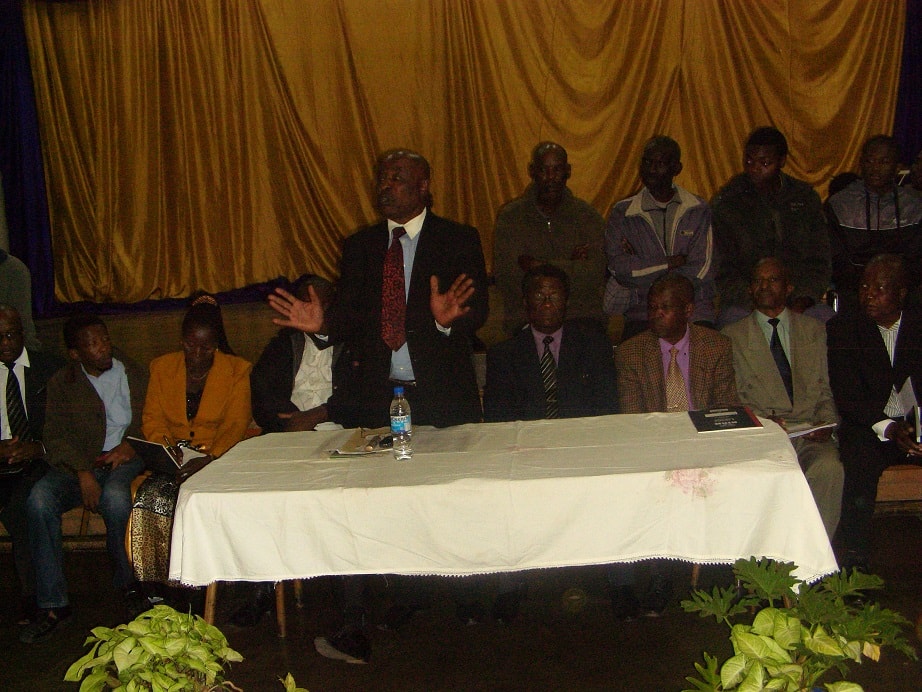 BULAWAYO - Councillor Gideon Mangena, Ward 24, registered a record attendance estimated at 900 residents at his feed-back meeting held on the 26 th of March 2017 at Nketa Community Hall.

Cllr Mangena (pictured above) said he had never had such an attendance at his meetings for the nearly a decade he has been a councillor. He attributed the historic turn out to the newly appointed hands-on Residents Development Committee which has hit the ground running.

"This change has been brought about by the appointment of a new committee which I believe will work well with residents," said Cllr Mangena.

"This committee does not have any hidden agendas. It is now a month old and some weeks.

The committee devised a new invitation strategy of taking meeting flyers (ZDDT) door-to-door and that seems to have worked. As you can see the hall filled-up and some people had to stand outside. We have never seen this happen in Ward 24."

He said if the new committee was to continue operating in that way there was no doubt that the ward would certainly develop.


"I had to appoint this new committee upon realisation that my work with the old committee was not going anywhere," explained Mangena.

"Many times I would postpone my meetings because of an embarrassing attendance notwithstanding that I would have invited other stakeholders to come and address residents on certain issues. My somewhat successful meetings would at most attract between 50 and 80 residents."

Mangena said he has since organised an induction for the new committee next month in order to further capacitate it, adding a consultant has also been secured to conduct the exercise.

"I want this committee to know its roles. I have realised that the old committee would always clash with me. Some of the committee members would at times want to do things that are supposed to be done by me as the councillor," added Mangena.

The meeting, also attended by the area's legislator, Phelela Masuku, and Bulawayo City

Council Assistant Director for Engineering Services, Engineer Mkhwananzi, discussed the politicisation of maize distribution, new school curriculum, roads, sewer system and the recruitment of community sweepers.