Amazing Stars Take Drama to Hillside
Written by

Mandla Tshuma, ZDDT Field Correspondent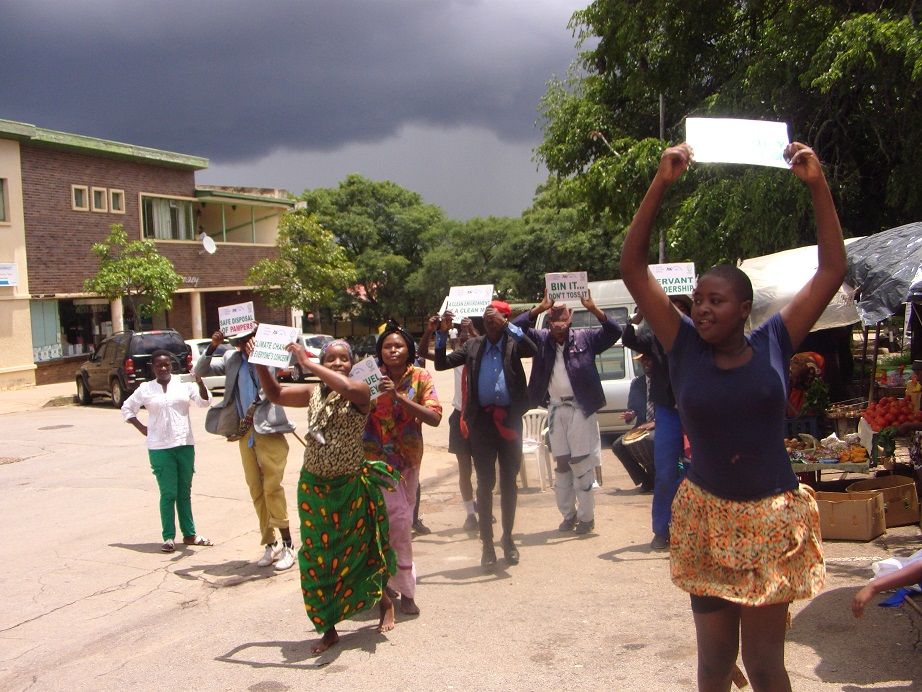 BULAWAYO – Residents of the leafy suburb of Hillside in Bulawayo were, on 24 February 2017, not only entertained, but also exposed to climate change adaptation methods, the importance of keeping the environment clean, the value of community participation in developmental issues and servant leadership.
The Amazing Stars Arts Academy (ASAA) took its drama performance to Ward 5 in partnership with the Zimbabwe Development Democracy Trust, Sally Foundation of Australia and other development partners.
ASAA is staging performances across Bulawayo, aimed at empowering members of the community, especially women, in a number of areas in the process enabling them to live better lives with the ability to also make informed decisions.
The drama group, which keeps on modifying its message for effectiveness and relevance, has already incorporated the aspect of Cyclone Dineo, which recently wreaked havoc in Matabeleland.
The objective was, to emphasise the need for citizens to seriously consider the reality of climate and subsequently adapt to it.
A total of 40 residents, who were part of vendors and those who came to do their shopping at Hillside Business Centre, had a chance to watch the youngsters as they performed.
Drivers passing by would also stop to find out what was happening before proceeding.
Many of the ASAA audience of about 40 people, said the drama group's message conveyed, through humour and satire, was spot-on.
Through the play, ASAA went on to dismiss all the myths associated with climate change such as goblins, Western sanctions on Zimbabwe and other unsubstantiated claims.
After the play, Aleck Gogodo, a Hillside resident said, "This drama has taught us so many things."
"We were taught about climate change. Through their use of Cyclone Dineo, as an example, I learnt that we should heed the advice of weather experts and not live in areas that are prone to flooding."
The drama group took a swipe at residents who litter the environment while challenging them to keep the city clean and attractive to both visitors and investors.
Residents were reminded of the need to proper dispose of diapers and used condoms, in the process promoting hygienic practices.
"This drama is very good because it is educative," said Ngonidzashe Moyo, another Hillside resident. "It teaches people how to dispose of the litter."
On citizen participation and servant leadership, ASAA through dance and music, encouraged residents to participate in community affairs while challenging community leaders to lead by example, in a transparent and accountable manner.