Capacitating Community Leaders
Written by

Mandla Tshuma, ZDDT Field Correspondent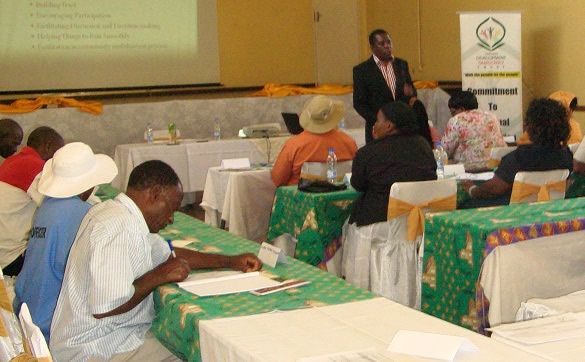 Bulawayo: Zimbabwe Development Democracy Trust (ZDDT), in partnership with TRACE, has organised a Community Action Team (CAT)members workshop in Bulawayo, aimed at capacitating leaders with community mobilisation skills.

Spearheading development in the communities,CAT members work with councillors, residents and other stakeholders.

ZDDT and its development partners regularly train community leaders in Bulawayo and Gweru with a view to promoting democracy at the grassroots, where the foundation is formed.

Such training also aims at capacitating leaders as they discharge their duties in the community and, in the process, improving representation and service delivery.

The workshop held at Njube' Lutheran Church Hall, saw 18 CAT members share challenges they face in the wards as they exchanged notes on leadership.

Facilitating the training, independent consultant, Leonard Mupezani, told participants that solutions lie in their ability to effectively mobilise citizens for action.

"The power is in the people; the power is in us being able to mobilise people," said Mupezani.

Participants, who were taken through various methods they can employ in community mobilisation, said the training had significantly empowered them.

"I learnt a lot today from this training," said Elizabeth Mutereko, Ward 24. "I have attended workshops before, but I think this one is the best. The facilitator was just wonderful.

He taught us a lot on community mobilisation and how to go about it. He also emphasised on how we should also handle ourselves as community mobilisers ourselves."

Virginia Nyathi, Ward 22, another participant, said the workshop helped her understand how to approach members of the community as a mobiliser.

Others thanked ZDDT for empowering them with confidence to lead and challenge as well expressing their gratitude for the skills, adding their lives would never be the same again, in as far as community mobilisation is concerned.